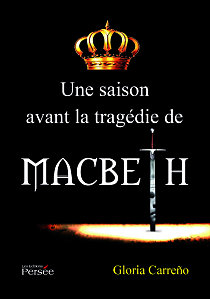 'Une saison avant la tragédie de Macbeth' has been selected by
le Bureau des Lecteurs de La Comédie-Française.
The French text is available for consultation at the library of La Comédie-Française and is referenced on their web page.
Published in French by Editions Persée : ISBN 978-2-35216-684-9
(Gloria Carreno at present retains all rights to her work)
Judie Newman, OBE, author and Professor of American studies, University of Nottingham,
"In this prequel to the 'Scottish play', Carreño replaces Shakespeare's guilty somnambulistic madwoman with her feisty historical original, Gruoch, a woman of keen political intelligence who rejects portents, omens and witchcraft in favour of a ringing declaration that 'My hands mould my destiny'. Great on the page - and even better on the stage in the British Touring Shakespeare Company's 2010 production."
(Times Higher Education Supplement, April 4th 2013)
The Royal Court Theatre, London
"This Gruoch is a powerful, frightening character and a great role for an actress. ... (The play) sheds a new light on one of the best known stories in Western literature"
Canadian Stage (Toronto) writes,
"We appreciated the clever take on Macbeth and the beautiful use of language."
The Centre Dramatique National des Alpes (National Dramatic Centre) says,
"We appreciate the subject matter and the force of the characters Lady Bodhe and Lady Macbeth."
Martina Baasner director of "Shakespeare Players", (Berlin, Germany) said,
"A really interesting take on Lady Macbeth and Macbeth himself."
Eleni Young : remotegoat : A production acting as a prequel to "Macbeth," is a feat in itself. A well written piece with a magnificent grasp of old English and a natural conversational flow marks this production as a success.
The actors own grasp of the complex dialogue and the natural ebb and flow made this piece an enjoyment to watch. Unfortunately so many productions fail instantaneously in the true understanding of old English. Whereas to recreate it on stage in 21st century England constructs an otherwise intimidating piece into a well developed and well conceived piece finishing with the witches at the beginning of "Macbeth".
Chris Hislop : TimeOut "It's a brave writer who attempts to add to or tweak the existing Shakespeare canon, and [in] Gloria Carreno's new piece A Season Before the Tragedy of Macbeth the grasp of language is impressive, as is the thought and research that clearly went into this new project…The final piece is something Shakespeare enthusiasts will appreciate and enjoy, and a great evening's entertainment for the Shakespeare enthusiast."
Professor Catherine Belsey, (Chair of the Centre for Critical and Cultural Theory, Cardiff University, Wales "A well-deserved success".
BTS Artistic Director Andrew Hobbs, says 'we are honoured to be staging the premiere of this major new work which looks at the characters of such a well known play from a very exciting new perspective. This exciting new play is set immediately before the events of Shakespeare's classic tragedy Macbeth. Authentic writing in the style of Shakespeare himself combines with painstaking historical research into the period concerned to shed dynamic new light on the characters of this well loved classic. Both tone and subject matter make this play an interesting approach to Shakespeare's theatre and the universal truths with which we must deal.'